Ferrariodesign
Thirty Years of projects, Thirty Years of passion for what I love to do.

The sentance that best describes my philosophy is "For all companies that want to travel at the speed of the world, but stop the gaze of the observer".
Creativity thus becomes the most important means of conveying the visual message, attracting the attention of its viewers, even if only for a second.
That is: be memorable!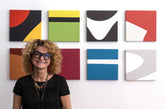 castle tower die cut graphic

Wine label with "fantasy"

Wine label with stylized wind rose

Un'etichetta colorata appariscente

An essential and elegant graphic

An eye-catching colored label

Flavors and aromas for a sparkling wine

Essential graphics for a genuine oil