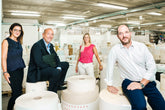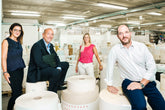 AUROFLEX: THE IDEAL PARTNER FOR AMBITIOUS PROJECTS
ABOUT US
We have been contributing to our customers' success through the tailored production of bespoke self-adhesive labels, skilfully produced to promote their projects with uniqueness and distinction, for over 50 years.
Supporting customers with the right solutions
We listen to and analyse our customers' needs and support them with an individual consulting service to provide a targeted response to their Market Positioning and Corporate Branding requirements. At Auroflex, every project is unique and constantly challenges us to come up with new, original printing solutions and techniques, to enhance the value of the products we "dress" and communicate excellence with meticulous attention to details.
Luxury Labelling Professionals, for decades
Auroflex was founded in the '70s by brothers Alberto and Francesco Butera, as a business specialising in the screen-printing of luxury products and the distribution of bespoke merchandising and marketing products for major brands and prestige companies, which chose Auroflex to handle their corporate and brand communication.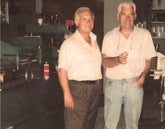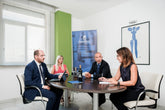 Auroflex immediately won a high reputation for its skill in extremely refined, sophisticated bespoke products, which it put to good use in the '80s when it decided to become a pioneering specialist in the production of self-adhesive labels on rolls, in a competitive context where glue labelling systems were still standard.
Auroflex supported this courageous strategic decision with large investments to acquire the latest roll printing technologies then available and to retrain all staff to keep in line with the gradual changes in the market, which was experiencing a rise in output of packaged goods, forcing companies to equip themselves with faster, more easily processable, more competitive labelling systems.
The core clientele's growing appreciation of Auroflex's experience and know-how in the creation and printing of bespoke self-adhesive labels with innovative, distinctive embellishment enabled the company to establish itself in the luxury label production segment, now its core business, accounting for about 80% of sales.
The love of challenges and entrepreneurial flair in the company's DNA are still in evidence today with Auroflex's second generation, Giuseppe, Katia, Fabio and Francesca Butera, who have given the company a strong managerial imprinting and who each fulfil specific functions within the business. This close-knit team share the strong desire to enable Auroflex to grow by riding the wave of rapid technological progress and digitalisation, more and more important factors in the volcanic world of the graphic arts.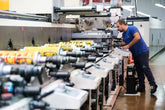 With our consolidated experience and using the most advanced printing technologies on the market, we produce adhesive labels of great beauty: real works of graphic art which not only provide a unique look but also consolidate the customer's communications strategy by enhancing product visibility and brand recognition.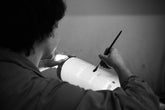 We select our suppliers with care to offer a wide range of print media and embellishment techniques of genuine quality, which support designers' creativity and highlight their concepts with exciting multisensory graphic effects that make every creation unique.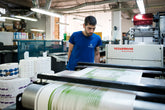 We are strong believers in technological innovation and in the contribution new technologies can make to your business and ours: we constantly update our printing plants to keep supplying fresh, new solutions even for small batches, taking great care over every single step, from pre-printing to post-production, to guarantee high-standard quality control throughout the production process.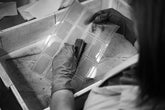 We believe in technological innovation and in the constant search for new developments, which transform, enrich and offer opportunities for growth to the Auroflex staff and to the customers we serve with extreme dedication every day. We embrace change with the constant empowerment and training of human resources and the optimisation of production processes with a lean approach, enabling Auroflex to deal smoothly with challenging levels of productivity, with excellent quality standards.
We promote high-value networks and partnerships
We believe in the authentic, genuine relationships we build with our partners every day: with suppliers, customers and employees we create experience networks that help to consolidate our know-how and drive a hands-on approach to the most ambitious challenges. We like to work in an ecosystem of trust and respect, in a cooperative, friendly climate, which continually consolidates our tailored approach, supported by sound managerial skills.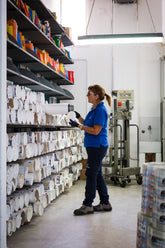 We embrace diversities with interest and promote the potential of people and of the environment around us, which we strive to safeguard by using highly recyclable, eco-sustainable materials from controlled sources. We respect our customers' projects with dedicated attention and meticulous care over every detail, to enable them to achieve their full potential without betraying their spirit.