Salieri3
Salieri 3
is the name of the studio founded in
2021 in Milan by Beppe del Greco (Florence,
1967) and Enrico Cerri (Abbiategrasso, 1992).
In the age difference between the two,
Salieri
3
has its strength: experience, culture, curiosity
and a contemporary gaze.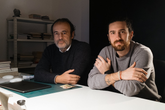 Ideal graphics for imposing and decisive wines.

Graphics with a classic and imperial look.

"Triangle" wine graphics.

Wine label that speaks Greek

Refinement and sharpness for sparkling wines

Graphics of wine to kidnap

Wine graphics for large companies

Graphics with a lush and imposing look

Graphics with a bright and modern look.